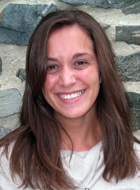 Francesca Vavala
Contact Information
REALTOR ®
Office: 302-378-9510
Direct: 302-378-9510
Mobile: 302-438-7891
Fax: 302-378-9690

---
Office Address
401 Main Street
Townsend, DE 19734
Although we are just beginning our business relationship I wanted to share with you some of my background information.

Born:
March 2nd, 1982 Salisbury, MD

Lived:
In Wilmington Delaware most of my life and in Newark while attending UD for college with the exception of a study abroad trip to New Zealand and Fiji. I currently live with my husband and two dogs in Trolley Square.

Education:
B.A. Arts and Sciences- English Education from the University of Delaware

Hobbies:
I love theater as both an audience member and as an actress. I have recently gotten into running and am rediscovering my love of rock climbing. I've been lucky enough to be training with boxing champ Dave Tiberi and look forward to sparring soon. I also enjoy a good book, doing anything with my friends and family, and of course watching HGTV.

Why I do what I do?
I do what I do simply because I love it. I find a lot of fulfillment and joy in every aspect of my career. Not only am I lucky enough to have freedom in my schedule and, to a great extent, determine what I earn, I can also satisfy my passion for education; in every transaction, I not only get to teach, I also get to learn.

Why work with me and Delaware Homes?
Delaware Homes is committed to our clients and forming relationships that will last a lifetime. We want to be your REALTOR® for life, and to that end, we will always put your needs and best interests above all else. You should work with us because you won't find another group of individuals who will work harder for you.